Our Museum is a busy place with Exhibitions from our collection, book launches and our annual Airing of the Quilts, plus collaborations with other groups such as Embroiderers.
Current Exhibition
Stories of Alstonville and Wollongbar Businesses
11 September – 9 October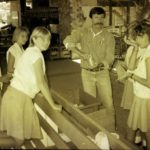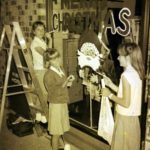 This exhibition features the people behind the business names.  Business people of Alstonville and Wollongbar tell of the nature of their businesses and their backgrounds. Also featured are their business and life highlights.  Also on display are photographs taken at the Alstonville Plaza in December 1990.  Can you identify those in these photographs?
The changing face of Alstonville businesses is told through photographs and reminiscences.  Do you remember the newsagency in the old wooden building?  Come and see the staff and owners of these businesses – it may be someone you know.
Future Exhibitions 2016 – 2017
4 November – 19 March 2017:   The Way We Play  The games and education of children:  toys, books and games from the APHS collection and the Alstonville community.
18 March – 17 June 2017:  Loose Threads  Original local textile and embroidery items.
8, 9, 10 July:  The Airing of the Quilts  The 10th anniversary of this spectacular quilt exhibition.
Fashion Project Sessions  Each Friday afternoon the Museum's side verandah is abuzz with activity under the guidance of experienced fashion industry style coach and pattern engineer Lois Hennes.  Bring your own fashion project to life for a $10 per hour donation to the Museum.  Please book with Lois on 0439 423 185.
In between Exhibitions the Museum has Open House featuring items from our collection reflecting family life from the turn of the century to the 1960s.
Past Events
Platypus Pioneer Progress Exhibition  This unique exhibition was held from the 7th September to 4th November 2012.  It told the story of the members of the Charles Bulwinkel family and had at its heart the return an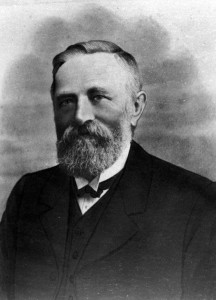 d display of an extremely rare platypus skin rug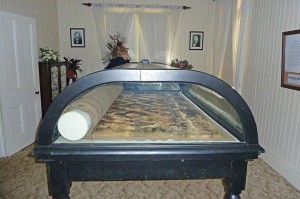 to the place where the platypus had been caught.  Over 80 platypus skins from Maguires and Duck Creeks in Alstonville were made by members of the family into a double bed sized rug.  The rug was eventually acquired by the Powerhouse Museum in 2003 and loaned to the Society especially for this exhibition.