Our Museum is a busy place with Exhibitions from our collection, book launches and our annual Airing of the Quilts, plus collaborations with other groups such as Embroiderers.
Our current exhibition is Queen Elizabeth II Platinum Jubilee
Commemorative ceramics, fragile textiles, photographs, documents and memories shed light on the Queen's 70 years of service and her 16 tours to Australia. The Society is particularly in debt to Kerrie Alexander for the loan of her extensive Royal Collection which makes a significant contribution to our exhibition.
It will run until 24th July.
Fridays 10 to 4 and Sundays 1 to 4
***************
In between Exhibitions the Museum has Open House featuring items from our collection reflecting family life from the turn of the century to the 1960s.
Past Events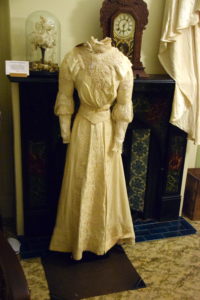 Gowns, Veils, Vows & Ties This Exhibition was held from 20 March to 17 June 2016 and featured vintage wedding gowns and bridesmaids outfits from the 1860s including several generations of one family's weddings, ad well as contemporary gowns. We were able to display from our own collection Olive Crawford's actual gown showing her petite waistline.