Our Museum is a busy place with Exhibitions from our collection, book launches and our annual Airing of the Quilts, plus collaborations with other groups such as Embroiderers.
SUNDAY 15 OCTOBER 2.00 pm IS OUR AGM
and then the APHS Antique Roadshow – Show & Tell Your Historic Treasure
Welcome to our annual version of the antique roadshow. No experts – just you! Bring along a treasured item from your history, and share its story with the members. It could be anything from the very ordinary to the totally mysterious. If it is the latter, see if anyone else knows what it is!
Come along for some entertaining story telling and mind-bending puzzling!
SPADE WORK
All Things Gardening Past and Present – Botanicals to Gnomes
From Friday 4 August to Friday 24 November
Frocktober: Frock Club celebrates SPRING – everything floral!
On 8th October 2023 – 1.00 – 4.00 pm
Find out more here!
Gnomevember: Gnome month – Fun family workshops

Join The Alstonville Plateau Historical Society in a celebration of gardens, gardening and gardening culture!
Open Hours: Friday 10 – 4 pm, Sunday 1 – 4 pm
Groups are welcome at other times by appointment. Contact us: 6628 1829, email info@aphsmuseum.org.au
***************
In between Exhibitions the Museum has Open House featuring items from our collection reflecting family life from the turn of the century to the 1960s.
Past Events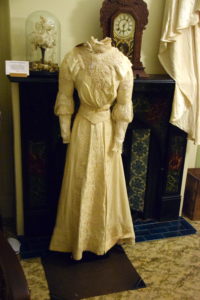 Gowns, Veils, Vows & Ties This Exhibition was held from 20 March to 17 June 2016 and featured vintage wedding gowns and bridesmaids outfits from the 1860s including several generations of one family's weddings, ad well as contemporary gowns. We were able to display from our own collection Olive Crawford's actual gown showing her petite waistline.