Our Museum is a busy place with Exhibitions from our collection, book launches and our annual Airing of the Quilts, plus collaborations with other groups such as Embroiderers.
CELEBRATING THE CENTENARY OF LEGACY
The Far North Coast branch of Legacy is partnering with our Society to celebrate the centenary of Legacy and its important work. The exhibition runs from Friday 2 June to Friday 30 June.
All entry fees and donations will be given to Legacy.
Legacy is dedicated to caring for the families of fallen or seriously injured veterans. This voluntary organisation is supported by veterans, servicemen and women, and civilians to assist around 48,000 widow(er)s, children and dependants with a disability.
Fridays 10 to 4 and Sundays 1 to 4
Groups are welcome at other times by appointment. Contact us: 6628 1829, email info@aphsmuseum.org.au
Sunday 18 June – General Meeting Talk
Speaker from Legacy – Celebrating Legacy's Centenary
The Far North Coast Branch of Legacy is partnering with our Society in an exhibition to celebrate the centenary of Legacy. Come along to support this important local organisation and hear about its valuable work in our community.
THE QUILTS ARE BACK – SAVE THE DATE!
The Airing of the Quilts will be returning to Crawford House on July 7, 8 and 9 this year. More details to come.
***************
In between Exhibitions the Museum has Open House featuring items from our collection reflecting family life from the turn of the century to the 1960s.
Past Events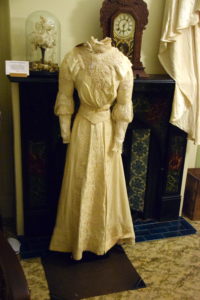 Gowns, Veils, Vows & Ties This Exhibition was held from 20 March to 17 June 2016 and featured vintage wedding gowns and bridesmaids outfits from the 1860s including several generations of one family's weddings, ad well as contemporary gowns. We were able to display from our own collection Olive Crawford's actual gown showing her petite waistline.