The Dreadnought Association is now in its 44th year and has achieved its main aims.  The Association has, by resolution, decided to wind up.  To meet its constitution and government dissolution requirements the Association's assets must be vested in an association which is eligible to receive such property.  The Alstonville Plateau Historical Society Inc was nominated, being both eligible and having some overlapping interests with the Dreadnought Association.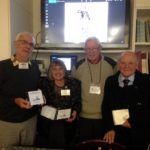 The formal handing over took place at our General Meeting on Sunday 15 July 2018.  APHS President John Sim, Olwen King, John Broadley and Gordon King from the Dreadnought Association
This page will contain information on the following:
the Dreadnought story, the Dreadnought Association story, access to records (Lists) and contact information for enquiries.
Watch this space!