Our current exhibition is Queen Elizabeth II Platinum Jubilee and will run until 24th July.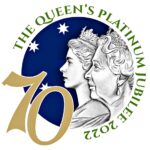 Opening times: Fridays 10 to 4 and Sundays 1 to 4
Groups at other times by appointment. Contact us: 6628 1829, Email info@aphsmuseum.org.au.
Click here to see pictures of our Platinum Jubilee Tree Planting at Crawford House.
***************
For all our members and past members – our 20th anniversary celebrations will be in 2022 – details to come.
The Community Resource Centre will be open for Research on Fridays 10.00 to 4.00 pm by appointment only. Contact us on 02 6628 1829 or email info@aphsmuseum.org.au
The Dreadnought Society has wound up and Alstonville Plateau Historical Society has been nominated to receive some digital records and publications. For more click here.
FOLLOW US ON FACEBOOK!